My dog training education started when I was around 14 years old when I was visiting a local dog training facility with our family Hovawart.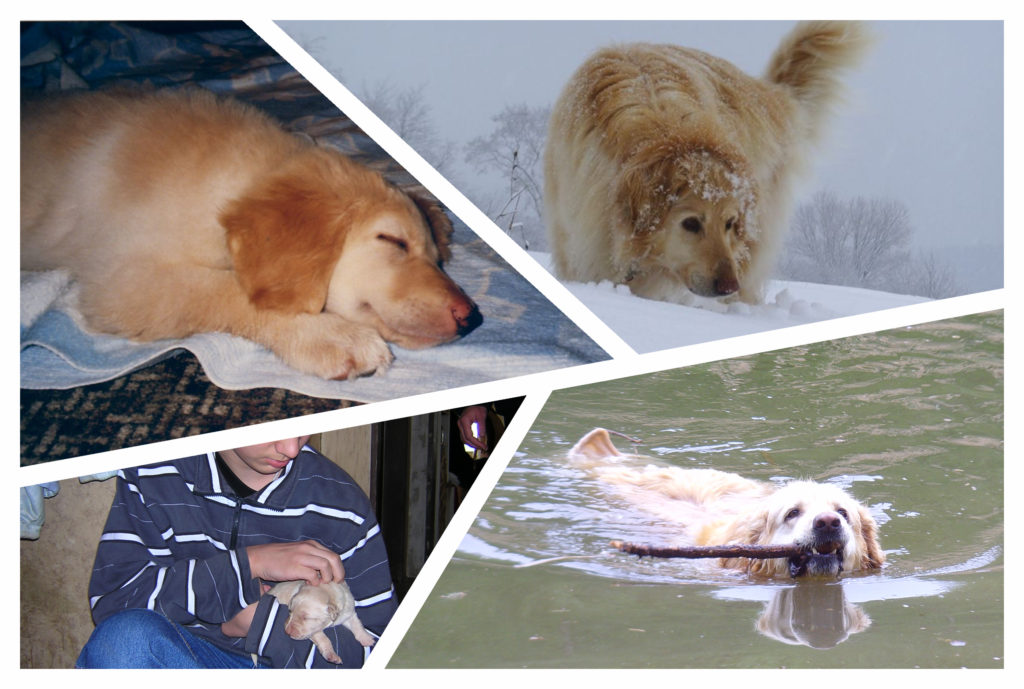 This is my member card of the local Cynology club:

Later I started to work also on my theoretical knowledge by reading books, articles and watching lectures on DVD.
In 2015 I attended a course Dogwise – Becoming a Better Dog Trainer by Engaging the Mind of The Dog provided by COAPE (The Centre Of Applied Pet Ethology). Main objectives of this course were:
Behavioral and Physical Development of the Domestic Dog
Learning and Behaviour
Understanding Aggression
Identifying and Modifying Behaviour Problems
For more, you can visit the link. I passed this course with the grade "A – Distinction"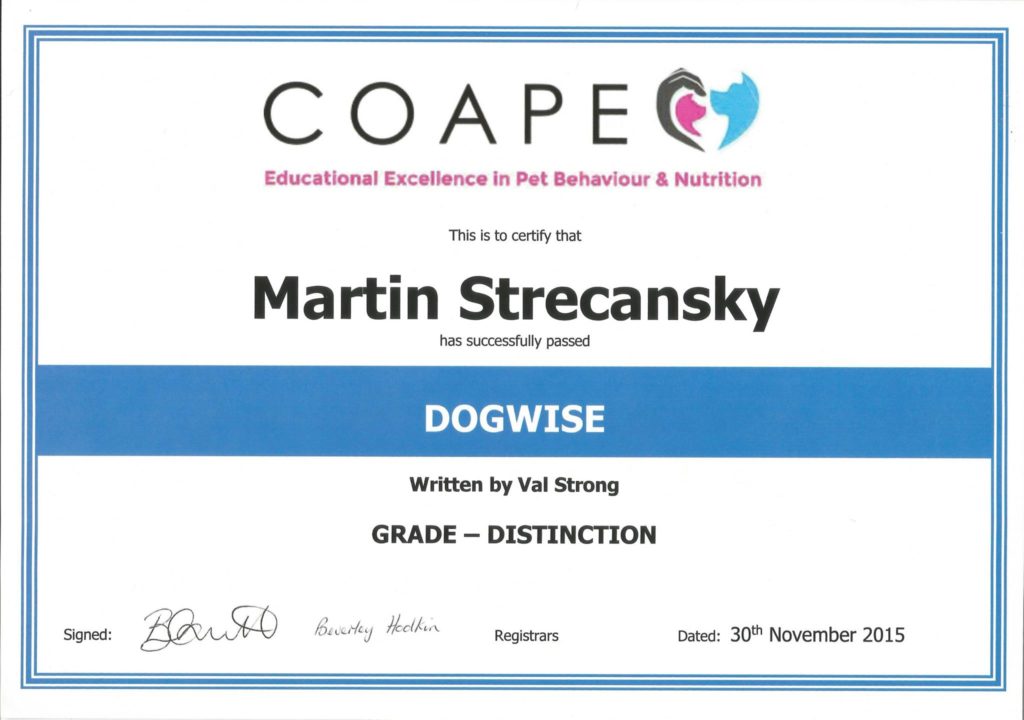 During my studies in Brno (Czech Republic) I cooperated with local School for
guide dogs, by walking the dogs, later as a foster, and finally, as a trainer.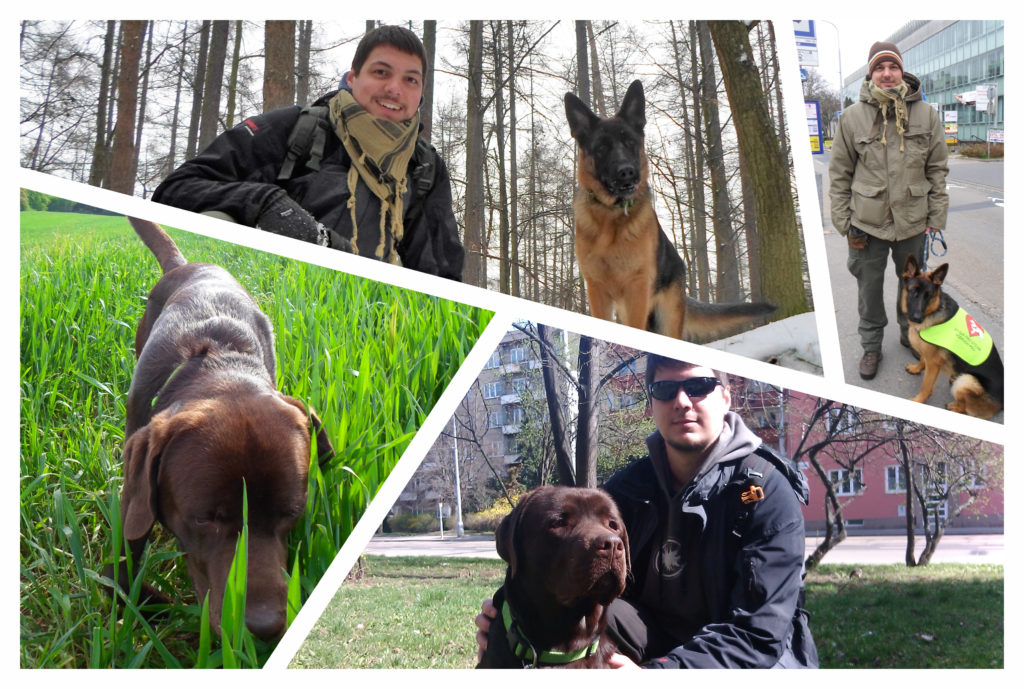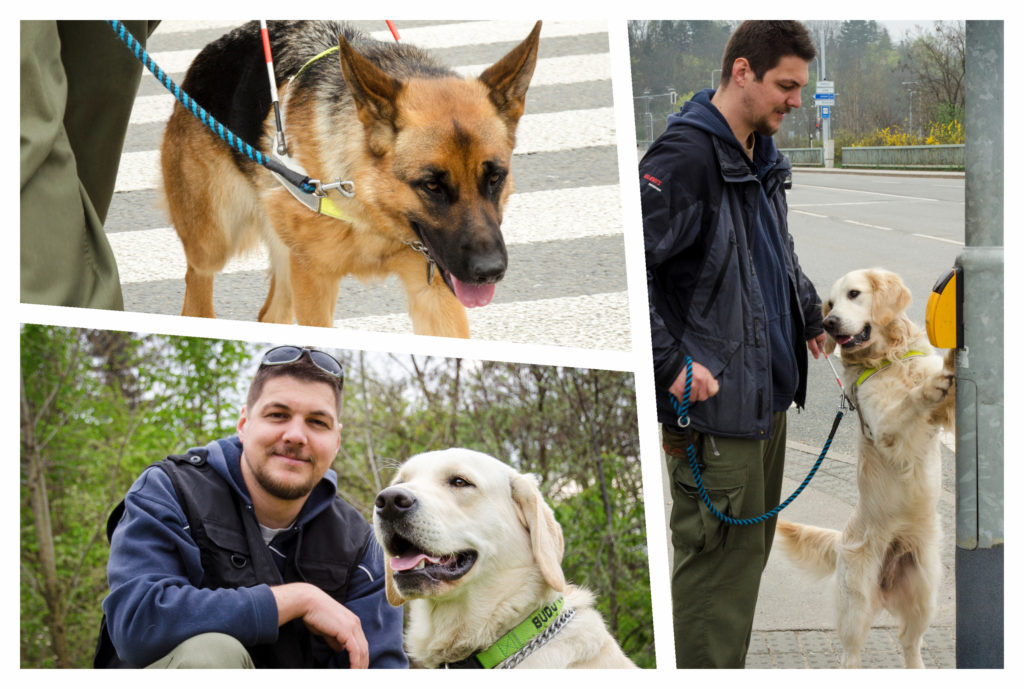 In 2016 I ended the cooperation with the guide dog school. Currently, I live with and take care of a Labrador retriever  – former guide dog on "invalid retirement".  I am teaching him some funny tricks – for example, to bring a beer, which is a very important skill.
Some of these tricks  I will be uploading on my YouTube channel and posting here in the Articles & Videos page.
Currently, I am continuously extending my education, for example through various seminars and lectures taught by veterinarian and behaviorist Dr. Ian Dunbar, which are mostly focused on:
Biological development of domestic dog, the importance of socialization, habituation, and prevention
addressing the most common behavioral and training problems like house soiling, destructive chewing, excessive barking, home-alone problems, and separation anxiety, jumping up, pulling on the leash, ignoring the recall,  lack of attention and compliance…
addressing temperament problems – fearfulness, stress, aggression – using non-aversive techniques
lure-reward training and how to phase out the lure
Overview of attended seminars and courses:
| | |
| --- | --- |
| Seminar / Course | Taught by |
| Becoming a better dog trainer by engaging the Mind of the dog | The Centre of Applied Ethology |
| Animal training using the positive reinforcement | RNDr. František Šusta, PhD |
| Simple solutions for common Dog Behavior and Training problems | Dr. Ian Dunbar |
| Growl class – a workshop demo for reactive dogs | Dr. Ian Dunbar |
| SIRIUS® Dog Trainer Academy | Dr. Ian Dunbar |
| How to "unlearn" | RNDr. František Šusta, PhD |
| How dogs communicate | Ing. Pavel Bradáč |
| Resource guarding | Ing. Pavel Bradáč |